<![if !vml]>

<![endif]>
Where Peace of Mind Begins
915-240-4747

Scan-Trak Portable X Ray Scanner
designed to x-ray suspicious packages in the field
Portable X-Ray Scanner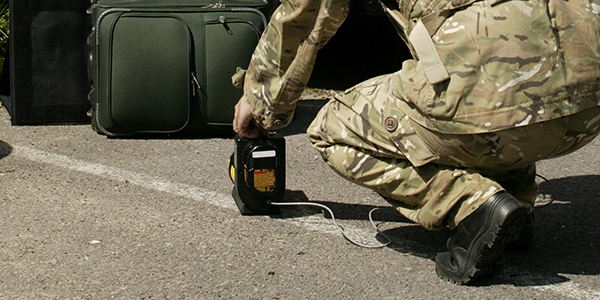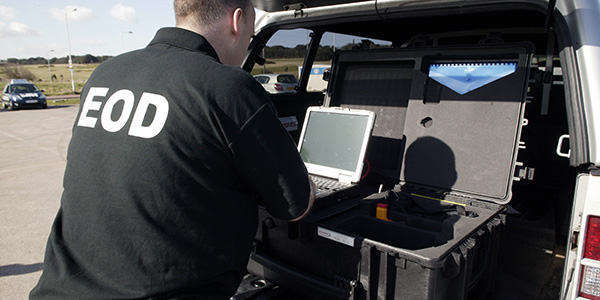 Designed for easily set up and deployed in minutes by one person and can be configured to suit different environments.
is a multiple application portable digital x-ray unit used by police, military, EOD, customs, law enforcement agencies,
Often used at prisons an by building security managers for checking unattended bags and suspicious packages.
Operates with any of the Golden pulsed x-ray generators and our Scan View Imaging software is compatible with most Windows XP or Windows 7 laptops or tablets .
Scanner is available with adjustable exposure settings, different size ICUs from 8 x 10" up to 16 x 22″ and has both wireless and ROV capabilities.
Key features
Direct CCD x-ray image viewing with fast rescans and no return to target to retrieve image plate

Portable and easy to set up and use in 2 minutes

Ethernet Cable or wireless operation

Range of Image Capture Units from 8 x 10" up to 16 x 22"
Imaging Area vary in size
Standard Compact

8 x 10"

10 x 13"

11 x 15"

13 x 17"

16 x 22"
X-ray Generators
Works with most portable x-ray sources including the XR150, XR200, XRS-3 as optional sources sold separately

Image processing features
Device uses our powerful Scan View software to give you a range of image manipulation options to get all the detail out of your x-ray image. Features include Zoom, inverse Image, b/w, pseudo color, pseudo 3D, contrast enhancement, clean image, rotation, distance, measure and show gradients.

A range of annotation tools allow you to insert text, notes and highlight suspect areas.

Database features
Scan View database software allows you to store and manage over 32,000 images using searchable fields. Raw and Stored images can be immediately exported by email or across a network.

Power Options
Completely battery powered in the field for over 5 hours continuous operation.

Recharge through the transit case's integral charging system.

Equipment Service and Support
Our comprehensive equipment support packages provide you with a range of service options to support your equipment in the field and ensure its reliability throughout the product life-cycle.

See other Portable X-Ray units :

Models available

Portable X-Ray :

Option 1

Portable X-Ray : Option 2

Portable X-Ray :

Option 3

Portable X-Ray :

Option 4

<![if !vml]>

<![endif]>
Product Questions:
915-240-4747



Major Credit Cards Accepted