<![if !vml]>

<![endif]>
915-240-4747
Where The World Can Find Security Products For Less !!!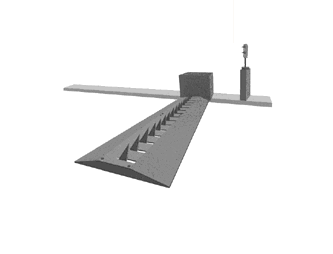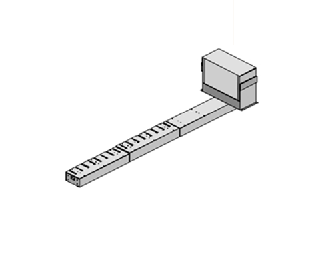 <![if !vml]>

<![endif]>
Two Models To Choose From both Above Ground and Flush In Ground Models Available
System has one Tunnel Section measuring 3 feet (3'-0") Tunnel Section 1/4" steel next to Motor Box with no traffic spikes
and 2 (3'-foot " sections with Control spike in Modules
You Can add additional 36" control modules with teeth which are available for longer drive ways up to 30 feet
Height: Ramp 3" above grade finish
Finish: Safety Red Or Safety Yellow (please specify)
Features: Cycle times of 1 second (red/green light cycles), custom programmable logic
Time-proven hydraulic power units, and hydraulic actuators.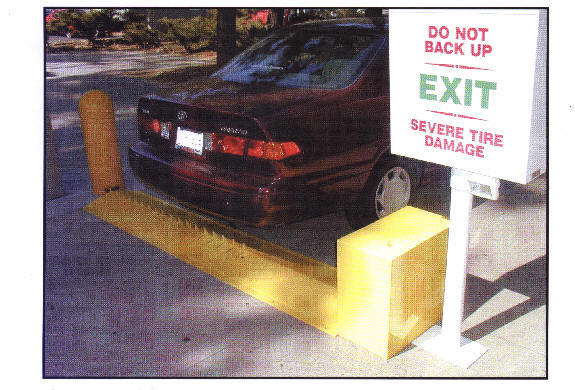 SURFACE & SUB SURFACE MODELS
The automated/motorized hydraulic, surface-mounted traffic controller is designed to regulate the flow of traffic through a secured control point, while providing a visual and physical barrier to approaching vehicles and preventing against unauthorized vehicles entering and/or exiting a secured area. The unit is surface-mounted to assist in the elimination of excavation and drainage problems
Optional– For Wet Weather Environments Get POWDER COATING each 3 foot section add $150.oo per panel
Helps prevent water damage due to rust
Accessories available:
Alarms, battery back-up, Red/ Yellow traffic lights. Basic System
Includes 1 three foot tunnel section 1/4" steel tunnel with no teeth in the section next to motor box
includes 2 qty - 3' foot spike panel 1/4" Thick Steel sections $9,750.00 Plus Freight
Additional 3 Foot Sections are $ 1175.00 each plus freight

<![if !vml]>

<![endif]>
Works with or without Gate Arm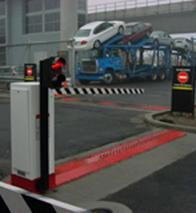 6 feet of Motorized Directional Traffic Spikes AND 1 2 FOOT TUNNEL NEXT TO MOTOR BOX
With 1/4 " Ramp WORKS FOR r Semi Trucks and large Heavy Axel Loads-
includes one motor box assembly
Motorized Surface Mount Traffic Spike System - 1/2 HP 115 VAC -
Motorized Surface Mount Traffic Spike Extension - PANELS AVAILABLE FOR UP TO 30 FEET OF Spike Section
MOTORIZED TRAFFIC SPIKES
SPEMB MODEL WITH 1/4 " TOP PLATE $ 9357.00pLUS FREIGHT
Additional 3 foot extension panel WITH TEETH ARE available $ 1440.00 EACH PLUS FREIGHT
Optional : not include accepts lift arm gate from 12-14' Arm
Control the Flow of Traffic Entering and Exiting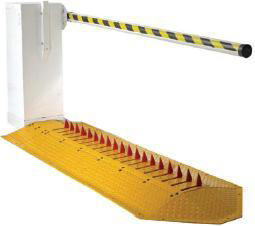 This Model SPDK16 must be used with a lift arm gate-
Automated Spike Systems are designed as a modular system allowing for easy flexibility in different applications and easy installation.
The operator is designed with many advanced features and mechanically links the spikes to the barrier arm.
The surface mount spikes are easy to install and do not require any trenching or excavating.
The auto-spike system is ideal for parking lots, rental car agencies, schools, car dealerships, government agencies, or in any application where a higher degree of traffic control is preferred.
A complete auto-spike system consist of several different components.
A typical system will require an operator, transfer box which is factory installed
as well as a tunnel section and spike sections as needed,
1603 - end cap. $495 EACH
1603-080 Barrier Gate Operator with Automatic Traffic Spikes 115VAC 1603-080 $ 6,894.00
1603-081 - same as 1603080, included DC Battery Backup System 115VAC 1603-081 $ 5,714.00
Spike Extension Kit - 3 feet 1603-073 $ 840.00 $ 1,680.00
Aluminum Arm Hardware Kit 1601-242 $ 150.00
14 Foot Aluminum Arm 1601-216 $ 216.00
Wood Arm Hardware Kit 1601-240 $ 120.00
14 Foot Wood Arm 1601-048 $ 160.00
· Surface mount design with mechanical link between arm and spikes
· 1/2 HP, Commercial / Industrial Capacity
Spike Extension Kit - 6 feet 1603-076 $ 3,240.00
$ 24,575.OO FOR 0PERATOR PLUS EACH MOTORIZED TRAFFIC SPIKES WITH 4 THREE FOOT SECTIONS OF TEETH PLUS FREIGHT

<![if !vml]>

<![endif]>
Click here to see Traffic Warning signs:
Click Here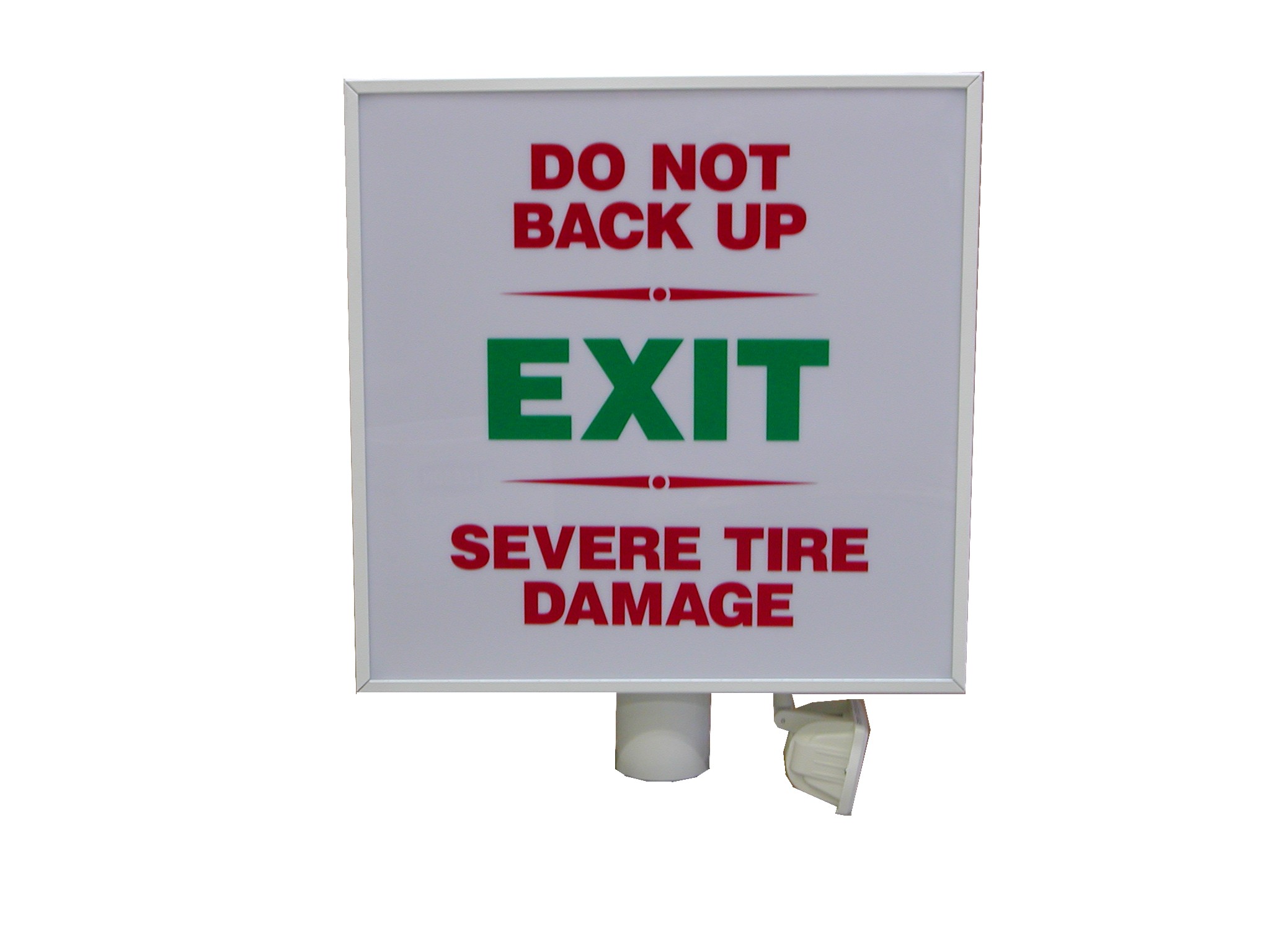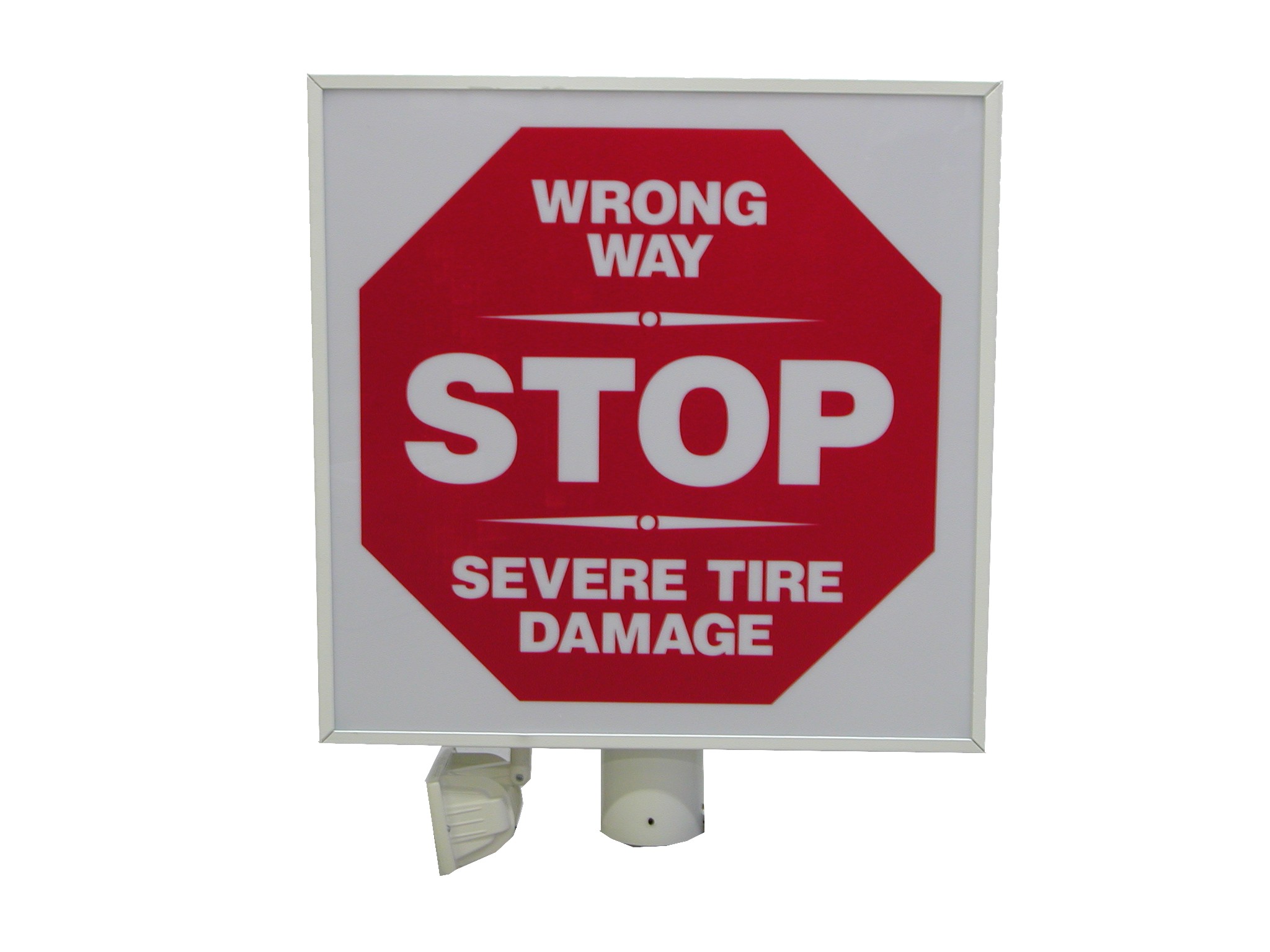 A traffic signal and/or warning sign is recommended with auto electric spike panels systems
Many systems integrate a lift gate
Traffic warning sign made of Lexan break resistant panels and photo sensor and Flood light with flange mount pole are $ 850.00 each plus freight
INCLUDES CRATING FEE

<![if !vml]>

<![endif]>

CALL FOR A QUOTE TODAY

915-240-4747
Please indicate how many feet required & Surface or In-ground spike panels

TOKEN CONTROLLER
See other options
Unattended TOKEN CONTROLLER for allowing access or exit at controlled check points

<![if !vml]>

<![endif]>

Call 915-240-4747


Where Peace of Mind Begins
Security Product's Unlimited
Saves You Money
s