<![if !vml]>

<![endif]>
915-240-4747

Where The World Can Find Lift arm gates For a lot Less !!
<![if !vml]>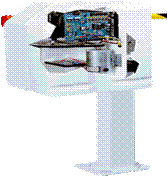 <![endif]>
MEGA Arm Standard GATE OPERATOR
Great for wet environments
Great for flush mounting to the asphalt or cement
no elevated platform requried
FAST ACCESS- ONE SECOND OPEN/CLOSE TIME
included 2 12 va. BATTERY BACKUP
SENSES OBSTRUCTIONS GOING OPEN AND CLOSE
RUST PROOF ALUMINUM lift arm or fiberglass
MOLDED POLYETHYLENE UV COVER-optional
Built in Wireless Receiver
The Tower Model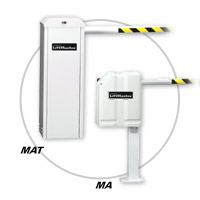 MEGA ARM TOWER - High Performance Commercial DC Barrier
The Mega Arm and Mega Arm Tower are DC-powered additions to the Lift Master family of gate operators.
Designed with a 24V DC (1/2 HP equivalent) motor, these models provide exceptional starting torque and continuous operation, making them ideal for most applications.
Constructed with an aluminum alloy chassis, they're corrosion resistant and light enough for one person to carry and install.
The heavy-duty motor supports 6,000 cycles per day with an operator speed of 2.5 seconds to open or close.

No power? No problem!
Built-in battery backup provides seamless operation of the gate operator and all DC control and sensing devices in the event of a power loss.

STANDARD FEATURES
Right or Left-Handed Operation
Inherent Obstruction Sensing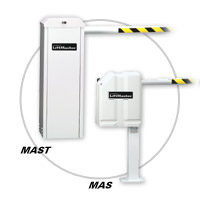 MEGA ARM SPRINT / MEGA ARM SPRINT TOWER - High Traffic Commercial DC-Powered Barrier
The Mega Arm Sprint and Mega Arm Sprint Tower are DC-powered, high-speed additions to the LiftMaster® family of gate operators. Designed with a 24V DC (1/2 HP equivalent) motor, these models provide exceptional speed, making them ideal for parking applications. Constructed with an aluminum alloy chassis, they're corrosion resistant and light enough for one person to carry and install. The heavy-duty motor supports 10,000 cycles per day with an operator speed of .9 seconds to open or close.

No power? No problem!
Built-in battery backup provides seamless operation of the gate operator and all DC control and sensing devices in the event of a power loss.

STANDARD FEATURES
Radio Receiver Built-in Aluminum Alloy Chassis
Built-in Battery Backup
Soft Start/Stop
DC Operator System
Right or Left-Handed Operation
Breakaway Arm Control Inputs
Inherent Obstruction Sensing
LED Indicators
Dual Gate Operation
Dynamic Braking Magnetic
Sensors
Timer to Close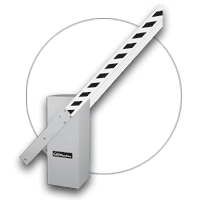 When an application calls for a barrier gate, The Work Horse the BG 790
BG790 has the reliability and features you require for a commercial installation.
The BG790 can be utilized in a high traffic area or integrated with another style gate to create a trap, preventing additional cars from entering a specified area prior to the previous car leaving.
The BG790 is provided by LiftMaster® with a 24-foot wishbone-style arm. Whether the operator is used individually or when utilizing the standard master/slave feature, the BG790 will cover the majority of installations from 24 to 48 feet wide. For smaller entranceways, please see our BG770 Barrier Gate Operator that supports a 12-foot standard arm.
Lift Master's parking gates are designed for long life and durability. The weatherproof cabinet is composed of heavy-duty 11-gauge pre-galvanized steel and is baked with a powder coat finish. A continuous duty 1/2 hp industrial motor, with overload protection, is standard to withstand heavy usage and promote low maintenance.
STANDARD FEATURES
Plug-in Connectors for Open Loop Detector and Hold Open Loop Detector included in Control Box
Multi-Gate Operation
Accessory Power
Removable Electrical Controls
Remote Device Connections
Access Panels
On/Off Switch
Control Station
Automatic/Manual Switch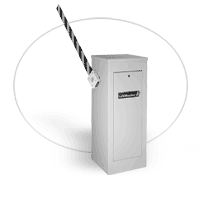 Lift Master BG 770
The Lift Master® BG770 offers reliable performance barrier gate operator for industrial applications such as airports, parking garages, and manufacturing plants. Engineered for the highest durability and safety, this powerfully designed barrier gate operator supports arm lengths up to 12 feet and arms weighing up to 25 pounds. Heavy 11-gauge steel weather-resistant cabinet with a durable baked-on powder-coated finish and a continuous-duty 1/2 HP industrial motor with overload protection supports 100 cycles per hour, making this model ideal for installations that experience heavy traffic.

STANDARD FEATURES
Dual gate operation
Control inputs
Limit settings
2 year warranty
OPTIONAL ACCESSORIES
Timer to close
Plug-in loop detectors
Long distance wiring module
The mega ARM was made to be unique in the industry through innovative design and solid engineering.
Its single State of the Art universal electronics control board eliminates the need for mechanical limit switches, relays and contactors.
Arm position is limited by a magnet mounted on the drive shaft which is sensed by two magnetic sensors on the electronics controller.
Its full service controller is capable of accepting inputs from telephone entry, loop detectors, card readers, push buttons, barcode scanners, and is equipped with multiple vehicle memory buffer.
Built in regulated 24VDC backed up power provided for accessories (detectors, receivers, card readers).
The standard break away arm design can allow the arm to be reused many times.
Finally, its modern design and cutting edge technology will make the MEGA ARM the perfect choice for all your parking control applications.
THE TOWER MODEL has the SAME ELECTRONICS as the Standard Model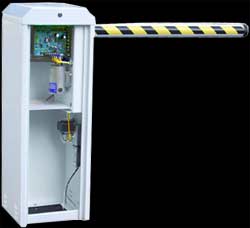 1 YEAR ON ELECTRONICS AND MECHANISM
The MEGA-ARM barrier style parking gate operator is unique in the industry.
Setting the MEGA-ARM apart are many features that make it the front runner in its class. With standard features like:
Built in battery backup - inherent 24 VDC backup power with regulated 24VDC for accessories.

High torque 24 volt Permanent Magnet DC motor.

Full service controller with eight inputs and LED indicators for loops, card reader, radio, etc...

Continuous duty operation for all applications (even during power failures).

Reversible arm direction for right or left handed operation.

Instant Reverse Device (IRD) monitor senses obstructions going open and close.

Automatic open of gate arm when power is lost if desired (With 15 sec. delay selection).

Raise gate input memory will memorize multiple vehicles-ideal for barcode scanners & AVI.

Ability to have arm STOP in close travel if tailgating is sensed at close loop.

Break away mounting design for the 12 - 15 ft. X 3" tubular aluminum arm.

All rust proof aluminum construction with powder coat baked on enamel.

Molded Polyethylene UV stabilized cover never needs wax or paint (white or colors).

Direct drive gear reducer eliminates many parts that might otherwise fail.

Microprocessor (RISC) based electronics with watch dog reset timer.

State of the art MOSFET motor drive technology, NO contactors or relays.

Dynamic motor braking to preserve arm positioning.

Soft start and stop in open and close travel motions.

No limit switches to fail-uses magnetic (Hall Effect) sensors to monitor arm position.

Maximum Run Timer for motor (MRT) with anti-tamper protection in closing direction.

Each unit configurable as master or slave operator.

Safe 24 VDC low voltage motor and control wiring.

Open architecture PCB with space for OVERDRIVE CPU for future expanded options.

LED diagnostic center for easy on-site trouble shooting.

Closing timer adjustable from 1-33 seconds with on / off selection.

Transorb diodes on all inputs for protection against transient voltage spikes.

Capable of being powered by 120 VAC, 220 VAC or Solar power, standard.

UL. LISTED (U.S.), C-UL. LISTED (CANADA)

10 year perforation warranty on cover and chassis with 2 years on electronics and mechanism.

Interlock with memory when connected to a slide/swing gate operator, barrier will wait to raise until that unit reaches its full open position. Barrier will not raise if slide/swing gate is tampered with.

Tail gate alarm-K1 relay can be programmed to fire when a tail gaiter is sensed on the close loop.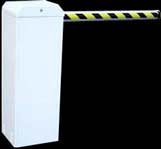 The Right Choice for trouble free access controls
Power Requirements120 or 220V AC, or Solar panel
Backup Power: Requires (2) 7 Amp Hour 12 Volt DC (Yuasa NP7-12 or Equivalent)

Weight: 115 lb (Without Arm)
Click below to see other gate options
<![if !vml]>

<![endif]>

Call for pricing 15-240-4747 or toll Free at 915-240-4747
<![if !vml]>

<![endif]>

Call 915-240-4747 and Order Today,
Options to consider : for your new gate
Gate lock box for EMT or fire entrance
A SECURE LOCATION TO STORE A KEY FOB FOR EMT ACCESS
Wireless key Pad or Key Bobs like a garage door opener
Optional: <![if !vml]>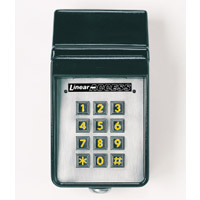 <![endif]> wireless key pad 480 code/ pedestal / (10) key fobs call for pricing <![if !vml]>

<![endif]>
The Model AKR-1 Exterior Digital Keypad with Radio Receiver is a digital keyless entry system designed for access control applications. The keypad is housed in a rugged cast aluminum enclosure that can be mounted to a pedestal or bolted directly to a wall. The die-cast keys have bright, easy-to-read yellow graphics.
Up to 480 entry codes, from 1 to 6 digits in length, can be programmed. They can activate either, or both, of the relay outputs.
Up to four sets of block coded Mega Code transmitters (up to 480 transmitters total) can be used to gain access through the AKR-1's built-in radio receiver. Each transmitter can be individually suspended or re-activated. Four facility codes can be programmed to identify each block of transmitters. A Radio Test Mode is provided for testing transmitters and detecting radio interference. Programming of individual (non-block coded) transmitters is not supported by the AKR

Two LED indicators show system status

Key operating features include: door sense input; inhibit input; request-to-exit input; alarm shunt output; timed anti-pass back; and keypad lockout

Down light illuminates whenever keypad is used

Tactile and audible feedback
<![if !vml]>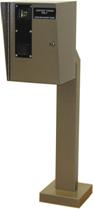 <![endif]>
TOKEN CONTROLLER Model SP305P
Model SP305P $ 2195.00 plus 250 tokens $ 200 + freight
The Token Controller is a high quality, low-cost access control device. The controller accepts only tokens and will reject coins. To combine monthly (contract parking) with token operation, a card reader can be added. The housing is weather-resistant and constructed of heavy gauge steel, not less than 14 gauge. All seams and joints shall be electric bead welds. The cabinet shall be finished with two (2) coats of primer, followed by two (2) coats of baked enamel to insure lasting beauty and protection. The token slot shall be within easy reach of the automobile driver and shall be protected by an extended hood. A push button release shall be furnished for bent tokens. A weather resistant access door shall be provided with a key lock to service the token receptacle area.
<![if !vml]>

<![endif]>
Other Traffic Control Devices
If a Gate is not Enough Consider this as an add on to keep unwanted traffic out
Used in conjunction with gates
Stop people from entering your while in
gates in the open position
Positive unattended one way traffic control SURFACE MOUNTED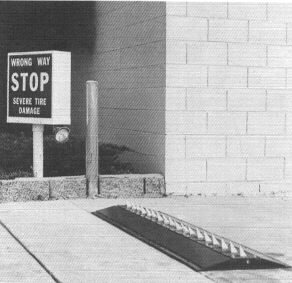 Traffic control products are ideal for controlling traffic direction and speed through a controlled entry or exit location.
Traffic spikes prevent vehicles from proceeding through a traffic lane in the wrong direction
or can prevent unwanted traffic from entering your private parking areas
traffic spikes help greatly to enforce one-way traffic lanes for exiting or entering designated drive ways
Please Note: Sign in Back Ground-optional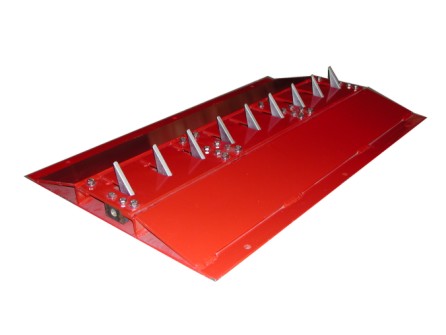 The surface mounted Traffic Controllers IN 3 FOOT SECTIONS can quickly attach to existing driveways asphalt or cement.
No excavation or cutting is required in normal installations.
Any driveway can be controlled by installing unit's end to end.
Easily attaches to asphalt with anchor bolts and 2 part epoxy
Because the unit is above grade, drainage problems are minimal BUT SHOULD BE CONSIDERED
<![if !vml]>

<![endif]>
915-240-4747

Where Pace of Mind Begins