<![if !vml]>

<![endif]>
915-240-4747
Amplified office Intercoms

Helps Protect Your staff from exposure to the Corona Virus
Places a Barrier between your office staff and possibly Infected People
Great for Hospitals and Doctor Offices or anyone that wants to place a Barrier
between office Staff and the Public
Makes hearing your Patients and customers easy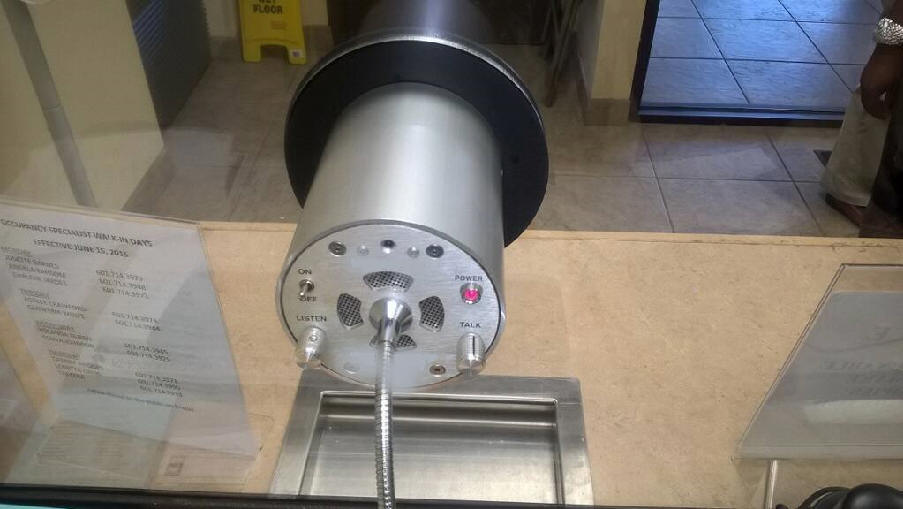 18 inch flex Mic, made in the USA
Money back guarantee
Two Models available AC Powered or Lithium Battery rechargeable model
Don't Make a Hard day harder by fighting to hear your customer s
Built strong & designed to Last
Quality Construction
Made in the USA
Fits standard windows
Fits Bullet Resistant windows -
designed with an 18 inch microphone
or optional plug in Head Set jack
Two-way communication is accomplished through the use of speakers and microphones located on each side of the partition.
Intercom is Housed within a rugged metal enclosure
Window intercom is an electronic two-way, hands-free audio Communications device (duplex) between a glass or wall partition.
The inside operator controls the operation by speaking into the gooseneck microphone.
The window intercom unit automatically initiates the "listen" mode when the operator discontinues speaking into the microphone.
Window Intercom contains two voice channels, each incorporating a microphone amplifier, VOX switch, compressor, background
noise monitor, attenuator controls, level detectors, and a bridge amplifier.
Note: The sound amplifier does not exceed a 0.2% total harmonic distortion rating.
Designed to Last with Rugged Aluminum Construction
Compact 4.0" diameter size
Important : No adapter required for holes in glass partitions less than 3.5 inches in Diameter
Various size of adapters are available 4-5-6 inches
Including Bullet Resistant Adapters
and bullet resistant inserts plates sold as options
Design with level 1 - 2 or 3 Bullet ratings as an option
Bullet Resistance is Rated Based on level 1 -2 or 3 level
Level 1 is 9mm rated
level 2 .357 Magnum
level 3 is 45 caliber
Indicate level of glass before ordering and thickness.
Note: various Bullet resistant glass cannot be cut, due to possibly being laminated,
Acrylic and polycarbonate can be drilled out or cut
In some cases if a hole is already present, over tightening the intercom can cause the glass to crack or spider
if various layers of the glass which are laminated
For new installations using ¼ inch or 3/8 inch glass the hole must be cut out to no more than 3.5 inches then tempered
Features and specifications are subject to change without notice.
One year warranty built in the USA
We have had these units in use for many years with no disturbance in sound quality
With other similar units on the market many of the microphones become defective from constantly moving the mic around
often times have to be sent in for repair, this is not the case with this unit.
These intercoms are available with and Optional 7 pin plug in Microphone
or with a 2.5mm jack for plug in single headset with single flip Microphone available separately
Applications:
Amplified Intercoms are Designed for APPLICATIONS where hearing the customer is difficult,
Generally due to excessive background noise, windy environments, lobby's with bad acoustics, excessive hard surfaces like tile, cement ,cinder block walls or other sound transmission environments which makes hearing difficulty.
Great for box offices , walk up windows, ski resorts, ticket booths, Campus ticket offices, pharmacy windows, Gold and silver exchange houses, Movie Theaters, Hospitals, Banks, Subways stations, Portable Ticket Booths,
loud lobby areas and open air environments, like ski resorts, college campuses
where there is excessive back ground noise present .
General Information
Thru Glass Window Intercom comes with an 18 Inch flex Microphone for easy communication .
Available with a 18" microphone or both a 3.5MM head set jack plug
Bullet Resistant Adapter Plates are available as an Option level 2 rated per plate add up to 2 plates
Optional : Bullet Resistant Adapter Plates are available for both AC or Battery Models
Available at time of order due to being installed before shipping
Non Bullet Resistant Adapter plates are required for holes larger than 3.5"
which is the Max size diameter of the hole without using an adapter plate
Note: with this intercom you can mount unit ,in a 3.5" hole without any adapter plate
Note: if the hole in your glass is larger than 3.5" or smaller than 3 inches in Diameter, an adapter plate will be required
for non bullet resistant or bullet resistant glass ,
Note: Options include either a bullet resistant or a non-bullet resistant adapter plate

three thru Glass Models Available
1) Thru glass AC Model
2) thru Glass lithium Battery Powered Model
3 Bullet resistant Intercoms in either an AC or Lithium Battery re chargeable model
TWO Models to choose from
1) AC Powered Window Intercom
wall powered intercom has as an optional a 3/8" tube consisting of 2 one foot satin aluminum sections
to conceal the power wires to the intercom
Lithium Battery Powered Window Intercom
Lithium Battery Model provides up to a 12 – 18 hour talk time before recharge is required,
simply plug in the charger just like on your cell phone
optional 3.5 MM headset Jack installed for use with a single ear flip Mic head set
Money back Guarantee if not satisfied – just pay shipping
Thru Glass Amplified Window Intercom has and 18 Inch flex Mic on the clerk side
Optional Head Set Jack with a 3.5mm jack installed for use with your own headsets (sold separately at Best Buy or thru Amazon
(Many of these units have been in service for 5 or more years without any problems)
Many satisfied customers worldwide
<![if !vml]>

<![endif]>
M
oney back guarantee
1 year warranty exchange on any defective or mal-functioning product
Made in the US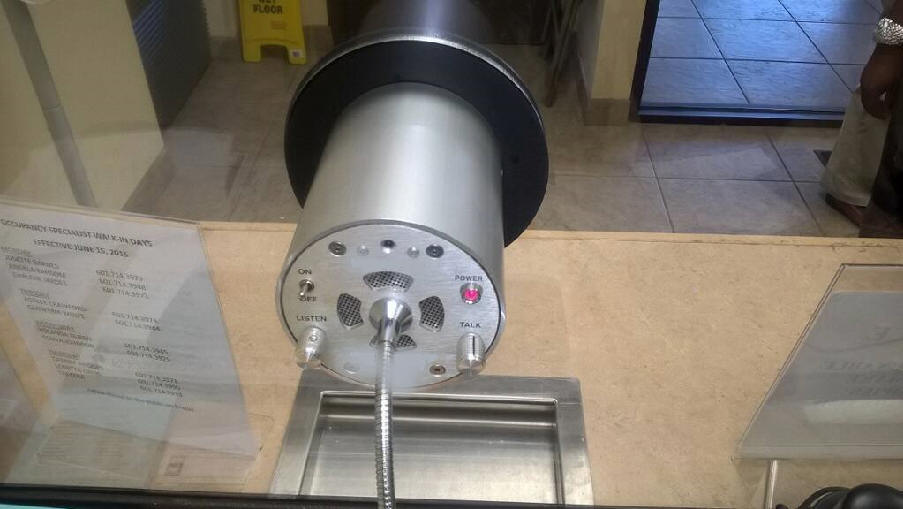 Picture of a Lithium battery unit
AC Model Thru Glass Intercom with wire extension tubes
#1 AC Powered Window Intercom
2 one foot 3/8 inch satin aluminum wire extension tubes
AC Model Only $1350.00
quantity discount available
Lithium Battery rechargeable thru Glass Intercom
#2 Lithium Battery Powered Window Intercom
$ 1450.00 plus shipping
Bullet Resistant Options -Either intercom can be used on Bullet resistant glass
Optional plug in Head Set Jack available for battery powered model $ 65.00
Non bullet Resistant adapter plates for holes larger than 3.5" inches $95.00
For Bullet Resistant Adapter Plate for 4 inch hole add $ 195.00
Bullet Resistant Inserts 1 plate for level 2 protection $ 99 each installed
and 2 inserts for level 3 protection $ 195 installed
Note: all pricing on this page is Pre paid prices
Call 915-240-4747
Available with a 3.5 MM head set Jack for plugging your own Headset w $ 65
2 one foot aluminum extensions tubes that conceal the power wires to AC unit $ 60
or 7 pin din plug in Headset Microphone $155 plus shipping
Standard Adapter Plates: Non Bullet Resistant
used to Mount the intercom to glass depending on the hole size
Note : No adapter plate is required for holes in glass between 3 to 3.5 inches in Diameter
Note: Non bullet resistant adapter plates are not required for holes that are 3' to 3.5" inches
non bullet resistant adapters plates are available in 4 inch 5 inch 6 inch hole diameters $95.00
Bullet Resistant Adapter Plates is needed
if the hole size is 4 inches in bullet resistant glass a standard adapter can be used can
hole sizes larger than 4 inches in Bullet Resistant glass requires a bullet resistant adapter plates $195.00
Bullet Resistant Inserts - center of Intercom protection
Protects the center of the intercom and creates a bullet resistant barrier
Bullet Resistant Inserts are available with 1 plate for level 2 protection $ 99 each installed
Bullet Resistant Inserts are available with 2 inserts for level 3 protection $ 195 installed
General Info regarding Bullet Resistant intercoms
Note if the intercom going in a Bullet resistant window
the window intercom unit is 4 inches in diameter
so if you have a 5 inch hole in Bullet resistant glass
You will have 1 inch surrounding intercom that isn't bullet resistant .therefore
a bullet resistant adapter plate set is required to protect that portion surrounding the intercom which would not be protected
and would require a 6 inch adapter plates
(2 plates) on each side of the glass are required to provide full protection and to hold intercom on the glass
Note if you have a bullet resistant window with a 4 inch hole
you can use a standard adapter plate set and only need bullet resistant inserts to protect the center of the intercom
Note holes in glass that range from 3 inches in diameter to 3.5 wont require any adapters plates regardless of the kind of glass
However holes in glass that are larger that 3.5 to 6 inch will require two adapter plates
one inch larger than the hole size
Questions Please call
Call 915-240-4747
Quality you Can Hear

30 Day Money back guarantee just pay shipping
free 1 year exchange warranty on any defective or mal functioning intercom product
Made in the US
Quality you will appreciate

<![if !vml]>

<![endif]>
915-240-4747
Other models of amplified intercoms
4 different Intercom models click links below
Thru glass AC or lithium battery Thru glass Intercom
wedge countertop intercom -no Hole required
countertop master control station / thru glass window Intercom

Call about our qty discounts
credit card orders add 3.5% to total including freight or pay by check
<![if !vml]>

<![endif]>
Where Peace of Mind begins
Product Questions:
915-240-4747



Major Credit Cards Accepted


Also Available
Low Profile Thru glass Window Intercom
which protrudes one inch extrusion from the glass on the customers side
this model is Designed for ticket window with Roll Down fire shutters
Other models of amplified intercoms
4 different Intercom models click links below
Thru glass AC or lithium battery Thru glass Intercom
wedge countertop intercom -no Hole required
countertop master control station / thru glass window Intercom