<![if !vml]>

<![endif]>
915-240-4747
Countertop thru glass Intercom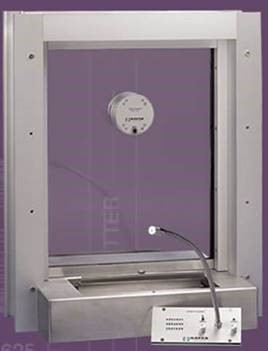 The DW-35 Countertop intercom which is the Master Station / with a thru glass Intercom
Great for windows with shudders or fire curtains because the
intercom extends out from glass on customer side 1/2 inch and 1.6 inches on clerks side
No other intercom is this low profile
Two-way communication is accomplished through the use of speakers and micro-phones located on each side of the partition. The Master unit is equipped with a 15" gooseneck microphone, power on/off switch, power-on LED, and external volume controls. The Remote Unit is window-mounted and may incorporate a level 3 bullet-resistive insert.

Features:
Heavy Duty Aluminum construction | Duplex Communication | Background Noise Level Monitoring | Dimensions of Master Unit: 2.8"x2.8"x8.8" | Short
Circuit Protection | Level Detection and Attenuation Control | <1% Distortion | Low Current Drain | Dynamic Noise Reduction Network | Reverse Voltage and Voltage Protection | Voice Activated Switch
SPECIFICATIONS:
The DW-35 provides electronic two-way, hands-free audio communications (duplex) between a partition. The DW-35 is equipped with a factory adjusted VOX switch to prevent ambient noise (below 85 decibels) from activating the unit. The DW-35 contains two voice channels, each incorporating a microphone amplifier, VOX switch, compressor, and a power amplifier. The sound amplifier does not exceed a 0.2% total harmonic distortion rating.
The DW35 is fully operational between 0°C and 50°C.

Each order comes with an AC/DC power supply(120V AC stepped down to filtered 18V DC) and a 1-year warranty.
<![if !vml]>

<![endif]>
$1350.00 plus freight freight
Conduit $45.00
Plus ups ground freight $15 to 25 in the US
30 Money Back guarantee with
1 year free exchange on any defective product
Call about our qty discounts
credit card orders add 3.5% to total including freight or pay by check
Adapter Plates:
these adapters are used to Mount the intercom to the hole in the glass
Important : No adapter required for holes in glass partitions less than 3.5 inches to 3 inches in Diameter
Fro Bullet Resistant Glass Bullet resistant adapter plates are not required for holes that are less than 4 inches i.e. 3.5" inches
non bullet resistant adapters plates are available for 4 inch holes for
holes sizes of 5 inch or 6 Inch diameters in Bullet resistant Glass a bullet resistant adapter is required for full protection
Note:
<![if !vml]>

<![endif]>
specify hole size and glass thickness when ordering this intercom
For Bullet Resistant Adapter Plate are $ 195
Standard Non bullet Resistant Adapters for 4" $ 65 -5 inch $ 75 or 6 inch hole $95
4 models to choose from
Thru glass AC or lithium Thru glass Intercom
30 money back guarantee
free 1 year exchange on any defective or mal -functioning product

Call about our qty discounts
credit card orders add 2.5% to total including freight or pay by check
<![if !vml]>

<![endif]>
Where Peace of Mind begins
we would rather apologize one time for the price than have to apologize every month for the quality
Product Questions:
915-240-4747


Major Credit Cards Accepted