<![if !vml]>

<![endif]>
Random Searches made Easy
Just What Corporate America Needs

A Security Directors Dream !
To search or not to search, that is the Question?
A simple Solution to a Difficult problem

Who to search ?
The Random Indoor search selector is a security device designed to make the screening process easy and completely non discriminatory in terms of who is selected for a search.
Designed for high traffic areas where it is impossible to search everyone
Easily adjust the percentage from 0 to 100%
includes a counter for number of searches and number of passes
Designed to ensure that people are searched at random , this to help prevent weapons from entering the facility
or business property from leaving your facility.
The Search Selector is activated as one passes over and steps on a pressure sensitive floor mat.
The Selector PROVIDES a non discriminatory means of randomly Choosing INDIVIDUALS to be screened
as they are (ENTERING or EXITING) your facility.
Donít Discriminate USE THE Random Search Selector to select for you and remove the human element of choice.
Also activated by pushing the large Red button
wall mount
Available in several models and configurations
# 1 WALL MOUNT INDOOR Search SELECTOR
#2 TELESCOPIC FLOOR STAND Model for INDOOR use
Both models above can be made to activate with a walk over activation pad
optional item

a remote activation station which connects to the main selector
Note :additionally percentages can be set from 0 to 100% search percentages by a simple twist of a security key-Preventing personnel from tampering or changing the search percentage settings or clearing the traffic count on the built in counter
# 3 Note a remote activation station pictured works in conjunction with the selector unit
the unit is connected to the selector unit via Cat-5 cable
# 4 drive up station for vehicle searches with main selector in guard hut
(Not pictured)
#5 OUT DOOR MODEL WITH NEMA all weather Housing and flood lights
# 6 OUTDOOR Drive up VEHICLE ACTIVATION STATION-works with a indoor wall mount model located in guard hut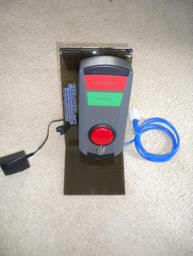 # 7 Desk Stand Model
# 8 PORTABLE SELECTOR BATTERY OPERATED
or available with a plug in ac power supply
this model require you to remove the back and change the dip switch settings in order to change the percentages
The Indoor Selector Features:
The indoor selector can be set up to activate with a pressure sensitive rubber floor mat, or simply wall mount and press the large red button on the face of the unit
the pressure mat measures (6"x 24") is covered by a rubber floor mat.
The Indoor Random Search Selector with telescopic stand has a sleek design and is supported by a black metal telescopic tubular pedestal,
which conceals the wires within the tubular structure, FOR A CLEAN APPEARANCE.
The unit can also be activated by a push button which is located on the face of the unit
This search selector will indicate the number of passes and the number of searches at any given point in time.
THIS FEATURES WILL TELL YOU HOW MANY PEOPLE EXITED OR ENTERED in any given time period
easily re-settable by using the security key
The RED LED will display a "SEARCH" as one passes over the pressure mat or pressing the red button and a longer tone sounds for a search, than one would hear for a pass tone with the green light illuminating
the unit is immediately internally reset, so there is no delay and the next individual can pass immediately .
THE GREEN LIGHT with A SHORTER BEEP WILL INDICATE A "PASS" ,
SO SECURITY PERSONAL DON'T HAVE TO WATCH THE SELECTOR in order to KNOW WHETHER THE SELECTOR has
SELECTED A PASS OR A SEARCH
This unit is easy to use and easy to operate.
Powered by a plug in wall transformer, the unit is designed to give you trouble free performance.
It is simple to adjust the percentage of searches you desire,
just use the key provided to adjust the percentage
the percentage of searches can be set from 0% to 100%.
Removing the human element & reduce prejudice
who you search is no longer a decision
this is the Un-bias way to select individuals to be screened
eliminate the need to search everone
only search a percentage of the population and reduce long bottle necked lines
this is a huge deterrant for reducing loss prevention
provides a source of reliable screening practice for your Company
The Selector features:
A " Green Light" will light up as one presses the large red button or steps over the black rubber activation mat in a "No Search situation" or a pass scenario indicating to the person to pass through security.
Two Red lights and a longer toned buzzer alerts security to search scenario indicating to the party be searched .
When the search mode is activated a BUZZER TONE alerts security with both the "search " button lighting up and a larger red push button also lighting up and the led display will also indicate "SEARCH."
there is no delay or reset time using the selector, so people can pass as fast as allowed for security to be able to identify who is selected for a search
It features a traffic counter see with the twist of a security key to avoid tampering
so you can easily see how many pass or search events occur in a day or a week, this traffic count is used to determine how many individuals you have time to search in any give time and thus s allows you to set the correct desired percentage for faster screening in any given time allotment so as to not create a bottle neck in parties exiting or entering.
We also HAVE SELECTOR CUSTOMERS SUCH AS Nuclear Power Plants, Distribution centers, Manufacturing Facilities, warehouses, and supply houses, GOLD MINES AND JEWELRY MAKERS , computer manufacturers and Security Products Manufacturers , Eye Glass frames Distribution Centers
WHO FIND THE SELECTOR A TREMENDOUS ASSET IN THEIR PROGRAM TO PROTECT and reduce INTERNAL LOSSES as well as increase work place safety by preventing weapons from entering the work place
DESIGNED TO TAKE the element of Choice away from security staff
CONSIDER THE SEARCH SELECTOR IF YOU DEAL WITH PRODUCTS
that everyone would like to have, especially if they donít have to pay for them.
SIMPLY determine, the cost of what may leaving your facility over a period of a years
because there is nothing in place to deter people from theft AND KEEP HONEST PEOPLE HONEST
This product is a deterrent that can lower your liabilities while protecting your assets.
We have heard of many discrimination law suits over the past years WHERE someone is unhappy
because they feel they are constantly being SINGLED out ,don't let this happen to your company.
This is the Affordable solution to a difficult problem-
"Who to Search"
With this product you can avoid having someone think that they could hold you liable for searching them, regardless of the number of times they are selected.
Random Selector Wall Mount unit

A less Sophisticated Model
Designed for an easy to move around battery operated selector
available with optional plug in power supply

Need Something Outdoors -
The OUTDOOR RANDOM SEARCH SELECTOR
FEATURES
A front rear spot search light.
A weatherproof high wind stable pedestal tripod
All weather resistant NEMA Enclosure, which has a fast latch to prevent tampering.

The Drive Up Vehicle Random Search Selector
-Special Order -
outdoor extension to the wall mounted unit
works off the selectors wall mounted indoor unit located in guard house
Designed to search vehicles before they enter a parking garage or depart your facility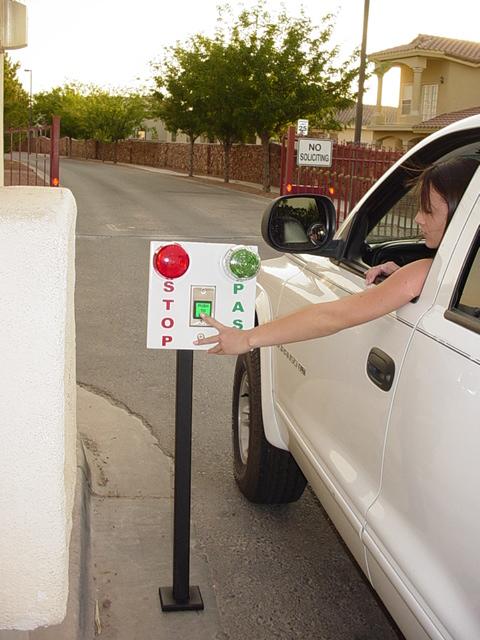 When vehicle inspection is a requirement -
Choose Our indoor search selector with Outdoor Push Station & PEDESTAL as pictured
works in conjunction with indoor selector -
(5 conductor wire not included) distance may vary from guard hut to unit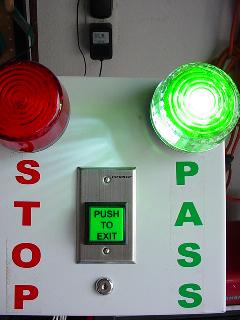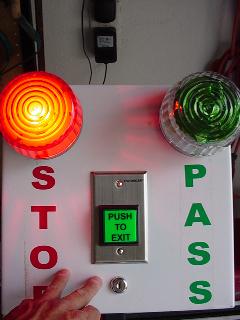 Searches Made easy
Just What Corporate America Needs to Keep The Work Place Safe
Security Products Unlimited
Phone 915-240-4747



Major Credit Cards Accepted
Call 915-240-4747 to Order Today!
Where Peace of Mind Begins
Making the World a Safer Place One customer at a Time


MAJOR CREDIT CARDS Welcome
Your Internet Source For Corporate Security Products