<![if !vml]>

<![endif]>
Under Vehicle Inspection Mirrors
Where Peace of Mind Begins
915-240-4747

Under Vehicle Inspection Mirrors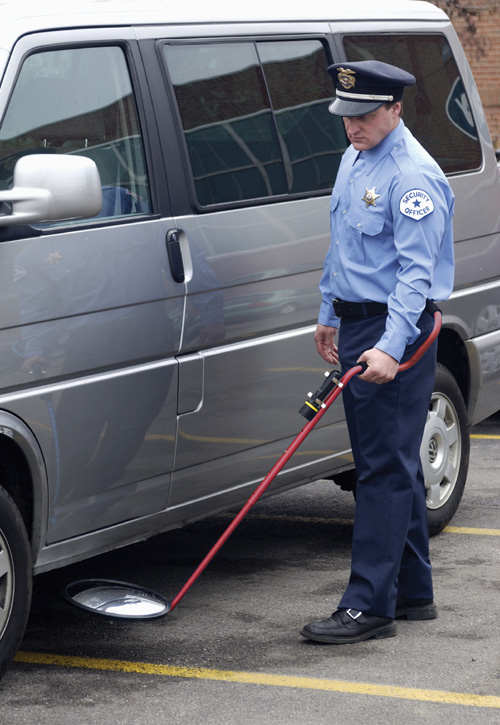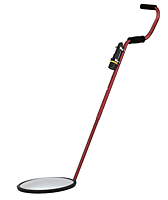 Ergonomically Designed telescopic handle for hours of use
Convex or Flat mirror shapes with or without wheels
Ergonomic design rests against your elbow to distribute the weight of the mirror evenly and allows one hand maneuverability.
Excellent for security when needed to look under or around vehicles, machines, equipment and hard-to-reach areas.
Available with or without a flashlight. Complete set weighs less than 5 pounds
Corporate Security Inspection Mirrors
Excellent for Security when needed to look under or around Vehicles, Machines, Equipment, and hard-to-see areas.
Available in lightweight model or complete with caster wheels and light
6 styles from which to choose
Available in Round Convex or Flat Mirror
Equipped with adjustable swivel for infinite adjustment
Has a heavy duty extruded rubber rim to help prevent damaging objects when maneuvering
Available with tripod ball bearing caster wheels, allowing full range of motion with effortless maneuvering.
Light weight with a 51" handle
Low 3-1/2" ground clearance
Available with flashlight, batteries, and mounting bracket
For indoor or outdoor use
Models to choose from include: straight handle
Convex or Flat mirror shapes with a telescopic pole handle
Model #
Diameter
Weight
Length
Type
Shape
Lens Material
Application

SP-120IM
12 inch
10 lbs.
42 - 51 inch
Hand Held
Convex
Acrylic
Inspection

$ 120.00

SP-120FIM
12 inch
10 lbs.
42 - 51 inch
Hand Held
Flat
Acrylic
Inspection

$ 125.00

SP-120IMW
12 inch
11 lbs.
42 - 51 inch
With Wheels
Convex
Acrylic
Inspection

$ 129.00

SP-120FIMW
12 inch
11 lbs.
42 - 51 inch
With Wheels
Flat
Acrylic
Inspection

$ 130.00

SP-120IMLW
12 inch
11 lbs.
42 - 51 inch
With Wheels and Light
Convex
Acrylic
Inspection

$ 135.00

SP-120FIMLW
12 inch
11 lbs.
42 - 51 inch
With Wheels and Light
Flat
Acrylic
Inspection

$137.00
Freight Charges: vary depending on zip code
ACTUAL BOX SIZE PER MIRROR IS 18" x 26" LONG 9-12 lbs EACH
Note: we can ship two mirrors per box
Major Credit Cards Accepted
<![if !vml]>

<![endif]>

Product Questions: 915-240-4747
Security Product's Unlimited
Saves You Money