<![if !vml]>

<![endif]>
Garrett Metal Detectors
915-240-4747
Where peace of Mind Begins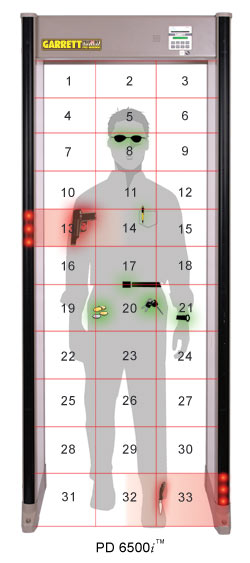 Walk-Through Metal Detectors

Designed to Detect Weapons in most environments and
Peace of mind products for your Safety
Magna scanner
CS 5000
Magna scanner
MT 5500
Magna scanner
MS 3500
Magna scanner
PD 6500I
Click her for more information on the pd6500 I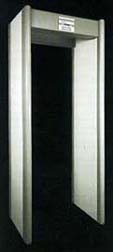 Garrett Magna scanner CS 5000

Improve Detection Performance...
1) Microprocessors in both detection and control circuitry
2) Greater sensitivity for detecting weapons
3) Precise target evaluation
4) Uniform coverage from archway to floor
5) Noise reduction to prevent false alarms
Increase Operating Flexibility...
6) Touch pads and backlit LCD for greater ease and clarity
7) Precise control of program/sensitivity settings
8) Continuous on-line reports of operating status
9) Tamper-proof settings through computerized access codes
10) Three levels of ankle-boost sensitivity
Proven Reliability, Quality and Value...
11) Meets latest requirements of FAA and other regulatory bodies
12) Complete and automatic self-diagnostic program
13) Rugged, yet designed for easy and quick assembly
14) Optional battery pack, for use anywhere
15) State-of-the-art manufacturing technology
16) Meets international standards for CE regulations
Call for Pricing discount list price is $4995 + freight
Garret CS 5000 Walk-Through

915-240-4747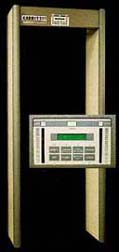 Garrett Magna scanner MT 5500

Improve Detection Performance...
1) Indicates on which side target is located
2) Absolutely uniform detection field eliminates "hot spots"
3) Microprocessors in both detection and control circuitry
4) Even greater sensitivity for detecting weapons
5) Multiple-coil circuitry minimizes false alarms
Increase Operating Flexibility...
6) Audio and alarm lights indicate on which side target is located
7) Touch pads and backlit LCD for greater ease and clarity
8) Precise control of program/sensitivity settings
9) Continuous on-line reports of operating status
10) Tamper-proof settings through computerized access codes
Proven Reliability, Quality and Value...
11) Meets latest requirements of FAA and other regulatory bodies
12) Complete and automatic self-diagnostic program
13) Rugged, yet designed for easy and quick assembly
14) Optional battery pack, auto voltage regulation for use anywhere
15) Simplified method for achieving optimum settings
16) Meets international standards for CE regulations
Garret MT 5500 Walk-Through list

Call for Pricing discount list price is $4995 + freight
915-240-4747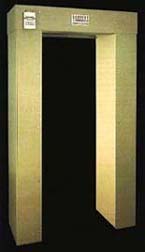 Garrett Magna Scanner MS 3500

Built for Maximum Security with Minimum Maintenance...
This heavyweight unit is built to withstand outside weather conditions or rough handling anywhere, and yet gives reliable screening at all times.
Designed specifically to stand up to the everyday demands of jails, prisons, public offices, schools and other facilities requiring maximum security with minimum maintenance.
Microprocessors are used in both the detection and control circuitry to give more sensitivity to weapons screening.
The uniform coverage -from head to toe- provides for precise target evaluation.
The detector also features excellent sensitivity, stability and noise rejection.
Call for Pricing discount list price is $5495 + freight
915-240-4747
(Shipped in the U.s. Only)
Order Online Today !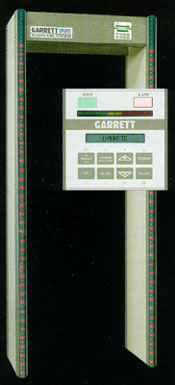 Garrett PD 6500I
Pinpoint Detention™ for an Enhanced
Total Screening Procedure.

The Garrett Magna scanner's unique multi-dimension coil design and its simple, easy to interpret
alarm displays provide for the ultimate in precise target location identification. Pinpoint
Detention™ assists the operator in quickly identifying the exact location of the alarmed
target whether on the left, center, or right side of the body from head to toe.
Garrett Walk-Through Weapons /Metal Detector.
Magna scanner PD 6500 i

The new PD 6500i utilizes Garrett's exclusive digital signal processor (DSP) -based
technology to provide superior target detection coverage on the left, center and
right side of the body from head to toe. With a Unique 33-zone pinpoint detection zone for the
the ultimate in safety, throughput and reliability with preset programs to cover
the most complete range of security applications, including the new Transportation
Security Administration's (TSA) Enhanced Metal Detector System required for all U.S.
airports. Multi-dimensional coil design detects guns, knives and other flat and rod-
shaped weapons regardless of archway location. Zone adjustment enables maximum
detection regardless of environmental challenges. Easy-to view eye-level pacing
lights with international "wait" and "proceed" symbols on the entrance side of each
panel. Easy operation with backlit LCD and LED bar graphs for continuous online
operating status and self-diagnostic reporting.

Improve Detention Performance
Pinpoints targets - right, left, or center of body from head to toe.

Multi-coil design reduces susceptibility to outside interference.

Zone by zone calibration optimizes detection field.

Less than 5% false alarm rates capability.

Reduces false alarms caused by common items such as keys,
coins, etc.
Increased Operating Flexibility
Unique pacing lights for increased throughput.

Touch pads and backlit LCD for greater ease and clarity.

Continuous on-line operating status reports.

Computerized access codes render settings tamper-proof.
Proven Reliability, Quality, and Value
Meets latest requirements of FAA and other regulatory bodies.

Complete, automatic self-diagnostic program.

Rugged, yet designed for easy portability.

Automatic voltage regulation for use anywhere.

Optional battery back-up module.

Simplified method for achieving optimum settings.

Meets international standards for CE regulations.

Modular unit design simplifies maintenance.

Garret PD 6500i Walk-Through

Call for Pricing discount list price is $5495 + freight
915-240-4747
See more detectors click here



Major Credit Cards Accepted
Call 915-240-4747 and Order Today!
Security Products Unlimited
Saves You Money!