<![if !vml]>

<![endif]>
915-240-4747
Loss Prevention increases Your profits in retail

Retail Loss Prevention systems
REDUCE THEFT AND INCREASE Net PROFITS
the difference between a bank and your retail store is the bank has there money locked up
Install A Retail Loss Prevention System
and your Products will have eyes everywhere
Non proprietary which means one company does not control its price, sales, parts or service
More retailers use R.F. than any other technology
The lowest investment for the same results as any other technology
More system choices to compliment your store than any other technology
More tag and label choices than any other technology
Maximum value for your loss prevention dollar
Advanced circuitry provides reliable system performance.

SOLO 2.0 MHz System
Your low cost solution to protecting soft goods
Single antenna 1.990 MHz system operates on 120 VAC or 220-250 VAC. Detects 3-4 feet equally on both sides of the antenna. One antenna will cover up to a 6 foot door when placed in center, or 3 foot door when placed at one side. Two antennas will cover a 12 foot opening. Easy installation. *Uses only hard tags (no labels) *3.25 MHz and other frequencies available.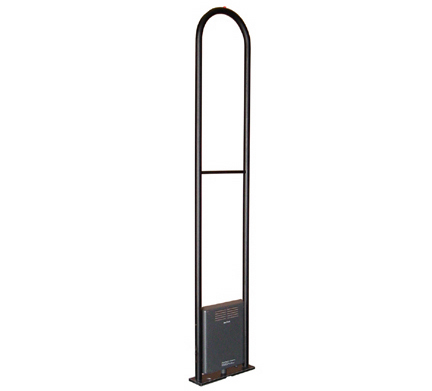 GARMENT SECURITY- DETECTS HARD TAGS ONLY,
The Solo 2 System is capable of detecting all 2.0 MHz Hard tags.
One Solo pedestal will protect up to 3.5 feet on each side of the pedestal using the Mini -Solo tag ,designed exclusive to operate with this system
Detects hard tags up to a distance of 4.5 feet using the Super Solo " tag"
Additional Pedestals may be used to protect wider exits.
Referred to at the third leg of the system
Audible and visual alarm indicators alert store personnel of possible shoplifting attempts.
Optional portable base plates may be ordered to allow easy end user INSTALLATION.
THIS IS A SINGLE PANEL SYSTEM DETECTS 3' 1/2' FEET EITHER SIDE
Call for Pricing 915-240-4747

SYSTEM 3
THE DEFENDER RF SYSTEM-protect small items
This system is designed to work with RF paper labels
The most Popular system to date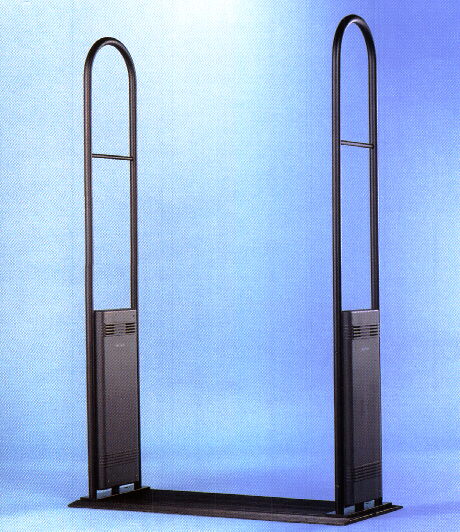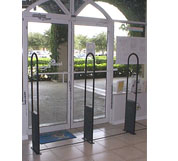 available in a Multi tag Dual Aisle system for double doors (3 pedestals)

If all anti- shoplifting systems looked basically the same and produce the same results, why would anyone pay more?"
The Defender EAS System is compatible with a variety of hard tags and labels for total store protection against shoplifting losses. Designed for smaller exits, single door entrances or exits .The Defender System offers ideal coverage for drug stores, specialty stores, video/music stores, gift and clothing boutiques, etc. With the Defender guarding against theft, store employees can better service their customers.
Revenues increase as merchandise becomes more accessible since items can be openly displayed with confidence.
Defender System aisle widths extends up to 4 feet with labels and up to 5 feet with hard tags.
Multiple pedestals can be used for wider exits.
Also available with optional base plate.
Manufactured in U.S.A.
Audible and visual alarm indicators.
Universal power supply operates on all voltages worldwide.


Stick on Labels with built in R.F. Transmitter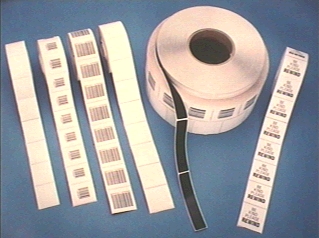 Hard Tags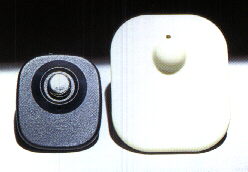 GARMENT OR SOFT GOODS Hard Tags
OMNI AND MINI HARD TAGS:
These strong, LIGHT weight hard tags are designed to protect all types of soft goods in retail environments. Omni and Mini Tags are attached to garments prior to placing them on the sales floor. Each Tag is detached using the Detacher at the point of sale. Unless the Tag is detached, the Omni and Mini Tag will activate the Multi-Tag II SYSTEM OR THE DEFENDER System on 8.2 MHz radio frequency. Tag colors and dimensions: Omni Tag (beige -2" 1/4" x 2"3/4") and Mini Tag (black - 1" 5/8" x 1" 7/8").
Adhesive Label Tag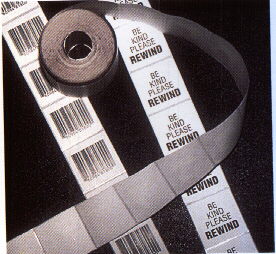 A label tag is designed to protect all non-metallic hard goods in retail stores. Two sizes of labels are offered: 1"-1/2" x 1"-1/2" for system pedestal separation up to 3 ft. and 2" x 2" for up to 4 ft. These labels will alarm the
Multi-Tag II System unless they are deactivated at the point of sale with the Deactivation Pad or Deactivation Stickers. Label Tags are available in barcode, plain white, or special versions and will alarm any EAS system on the same 8.2 MHz radio frequency. Please ask your representative for our line of specialty labels for specific retail markets.
Deactivation Pad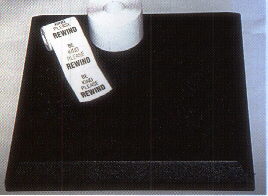 Any 8.2 MHZ de activatable label/soft tag may be used in conjunction with the Deactivation Pad. In addition to deactivating Labels, the Deactivation Pad will permanently deactivate any 8.2 MHz label/soft tag currently available Multiple units may be used together without causing interference with the R.F. system, often a problem with other deactivators on the market. The Deactivation Pad has dimensions
Measuring 10 1/2" square.
Ink Tags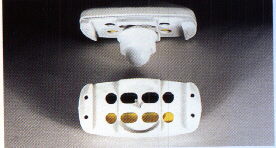 Ink Pins

may be used together with an EAS hard tag or with a locking clutch. Ink Pins provide an extra level of deterrence against shoplifting by adding the threat of permanent garment damage if the pin is forcibly removed. A variety of ink colors and pin styles are available. Dimensions of pin shown - 2 1/8" x 1".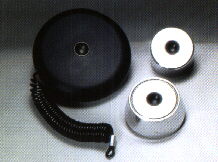 MAGNETIC DETACHERS
DESIGNED TO RELEASE A PIN FROM ANY TYPE OF EAS R.F.HARD TAG.
Two types are available: black table top detacher, which includes a security lanyard to secure it to a counter , durable scratch resistant finish ,measures 5" diameter
Type two is a chrome detacher, designed to be permanently attached on the check out counter. Approximately 2"1/2 " to 3" in diameter.
DEACTIVATION STICKERS 8.2 Mhz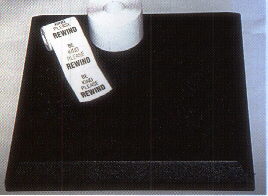 USED IN PLACE OF A DE-ACTIVATION PAD, SIMPLY APPLY THE STICKER OVER THE LIVE LABEL TARGET AND THE TARGET IS NO LONGER ACTIVE , ALLOWING THE PRODUCT TO EXIT THE SYSTEM WITHOUT TRIGGERING AN ALARM SITUATION

<![if !vml]>

<![endif]>
Where Peace of Mind Begins

Security Products Unlimited
915-240-4747 QUESTIONS