<![if !vml]>

<![endif]>
BI-FOLD SERVICE WINDOWS!!
Making Walk Up or drive up food Service Convenient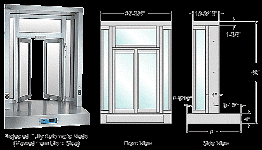 Several Models Available
Satin Anodized or Dark Bronze finish
Electric Fully Automatic /semi automatic/Self Closing models
Two Styles
Projected Bi-Fold Windows
Flush Mount Bi-Fold Service Window
Select From Manual, Semi-Automatic and Fully Automatic Operation
Available in Stock or Custom Sizes, and Stock or Custom Finishes
Low Voltage 24V DC System UL/CSA Approved Class Two Transformer
Bi-Fold Service Windows are perfect for food handling Pass thru applications
Features include two panels that simultaneously open outward towards the customer
are designed with a burglar bar for extra security.
Projected from wall and Flush Mounted models are available in three different configurations in some models:
MANUAL - Both panels move simultaneously as either panel is manually operated.
MANUAL operates with a jamb mounted push button OFF defeats all functions and closes the two panels. UL/CSA Approved Class 2 Transformer.
SEMI-AUTOMATIC - Opening the window is achieved by pushing on the hip activated slide bar.
Step away from the window and the two panels automatically close.
Note some models of fully Automatic Bi fold windows have been discontinued
FULLY AUTOMATIC - Opening the window is as easy as stepping in front of the built-in infrared sensing device.
Simply step away and the two panels automatically close.
The Automatic/Off/Manual Switch provides three different settings:
AUTOMATIC operates with the infrared sensing device;
Custom sizes and custom paint colors are available by special order.
Additional Product Information:

Specifications
Materials: Aluminum Extrusion; Pile Weather-strip; Glazing Vinyl; Stainless Steel Shelf or Stainless Steel Sill

Glazing: 1/4 inch (6 millimeter) Clear Tempered Glass

Stock Finishes: Satin Anodized or Dark Bronze Finish

Bi-Fold Configuration: Fully Automatic; Self-Closing; Manual
To Determine Rough Opening: Add 1/2 Inch (12.7 millimeter) to Width, 1/4 Inch (6.4 millimeter) to Height

Controls: Infrared Sensing Device and Manual/Off/Automatic Switch Included in Stainless Steel Shelf (attached).
Jamb Mounted Push Button Switch for Manual Operation.
Header Mounted Master Power Switch and Push-to-Reset Master Fuse

Power Requirements: 115V AC
available in a Satin Anodized alum finish

available in Fully Automatic /semi automatic /and self closing manual

This is Projected Bi-Fold Service Windows

$ 2827.00 plus freight

Bronze finish available in All Electric Fully Automatic

Simi automatic and Self Closing Models

Projected Bi-Fold Service Windows

Call for Prices

Custom Size and Finishes available

Projected Bi-Fold Service Windows

Call with your specific window rough Frame size

Satin Anodized All Fully Automatic Flush Mount Bi-Fold Service Window
Select From Manual,
Semi-Automatic
Fully Automatic Operation
Available in Stock or Custom Sizes, and Stock or Custom Finishes
Low Voltage 24V DC System UL/CSA Approved Class Two Transformer
Satin Anodized All Electric Fully Automatic Flush Mount Bi-Fold Service Window

Flush Mount Bi-Fold Service Window

available in Manual and o longer available in a fully automatic Model

Starting $ 1862.00 plus Freight

Self Closing starting at $ 2495.00 plus freight

Custom painted finishes

Various Size or Custom Sizes available or some standard sizes in a Flush Mount Manuel or self closing Bi-Fold Service Window

available in Manuel or self closing

Call for Prices 915-240-4747
<![if !vml]>

<![endif]>
Where Peace of Mind Begins



915-240-4747
Security Product's Unlimited
Saves You Money