<![if !vml]>

<![endif]>
Where Peace of Mind Begins
915-240-4747

PORTABLE CRASH BARRIER

Mobile Barricade

When your Serious about Traffic Deterrence !!!

Certified by: U.S. Department of State
Certification Level: K4/L1
Gross Vehicle Weight: 15,000 pounds/66.7 kN
Crash Speed: 30 mph/48 kph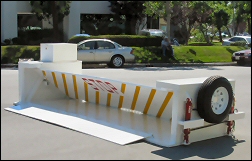 Once positioned, the new Portable Crash Barrier Mobile barricade is separated from its transporter and lowered into position by means of a Battery-Operated Hydraulic Power System, which is then used to raise or lower the barrier for normal or emergency tasks.
The controls to run the barrier can be located on the barrier, at a fixed secure post, or from a hand-held push button controller.
The guard need not go to the barrier to raise or lower it from its guard position.
Within 15 minutes of being sited, the new MP-5000 Crash Barrier mobile crash barrier lowers itself into position with built-in hydraulic jacks.
There is no hand cranking.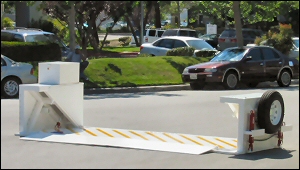 Wheels are stored at the sides and then the vehicle ramps are folded out, completing the deployment.
To move the barrier, the procedures are simply reversed.
Both the operation of the barrier as well as deployment and retrieval are push-button controlled.
A standard system includes a battery-operated power unit, replenished from either a solar array or multiple local low voltage sources.
Optionally, a MP-5000 Crash Barrier Hydraulic Power Unit operated on a locally supplied power or full manual system, or combination, is available.
Both the locally powered and battery powered hydraulic pumping unit can be sized to provide pass-through rates suitable for most inspection and identification station requirements.
The barricade operates at rates between 10 and 15 seconds for a full up-down cycle.
Sustained rates of 40 cycles per hour can be maintained indefinitely, depending on the available recharging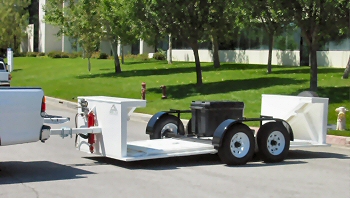 Product Questions:
915-240-4747


Call 915-240-4747
For More Information ad Pricing
Security Product's Unlimited
Saves You Money