<![if !vml]>

<![endif]>
915-240-4747

When Your Serious about Inmate Screening made easy
The BIG Boss II & III Oral Cavity Inmate Screening Detector Chair
Detects metal to the size of a bb

The B.O.S.S. Body Orifice Security Scanner is available in two different models
The B.O.S.S. II & III.
"The "BOSS" Oral Cavity Detection Scanner-
Model 2 Scans Ankles, Waist Area & Groin Area feet, MOUTH AND MORE
"Designed to limit weapon entry in Detention Facilities
1. Oral



2. Abdomen




3. Anal / Vaginal



4. Leg/ Shin




5. Feet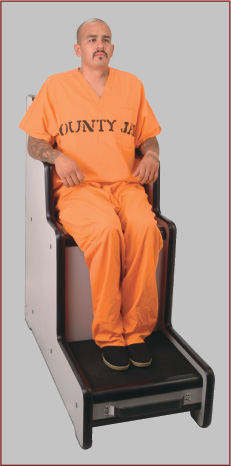 Scans The Mouth ,Back Abdomen, and Seat and Foot area


Big Boss II
Big boss III
For Information Call 915-240-4747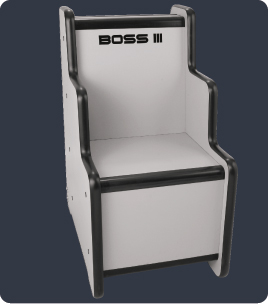 Easy to use digital keypad control.
The Boss 2 Body Orifice Security Scanner is equipped with an easy to use digital keypad control.
The menu system is intuitive and secured by a user definable password.
The digital signal processing circuitry enables the B.O.S.S. detector to discriminate for either targeting or rejecting different types of metallic objects
Constructed of highly durable materials for many years of reliable service in heavy duty security applications.
Designed so it cant be lifted and tossed or damaged by irate inmates

Optional Battery Kit and transport wheel kit is Available
The optional battery kit and standard wheel kit enable the B.O.S.S. to be used in Remote
field applications where power may not be present .

Features of these Oral cavity detector chairs
A Safe Non-Intrusive Method of Detecting Objects Concealed in Body Cavities
B.O.S.S. is a unique, fast, non-intrusive, inexpensive, high sensitivity detector designed to detect metal objects hidden in body cavities. It is commonly used in corrections facilities to scan inmates for weapons and contraband objects hidden in anal, vaginal, oral and nasal cavities. At some sites visitors are also screened.
B.O.S.S. has undergone extensive testing at US State and Federal Corrections facilities and has received considerable attention in both the electronic and print media.
Typical objects being targeted are razor blades, handcuff keys, paper clips, knives, shanks and tools. It also detects metal foils and objects such as detonator caps. Razor blades are of particular concern as they are difficult to detect in all orientations with walk-through devices. It has even been reported that prisoners are known to cut pouches in the insides of their cheeks to conceal razor blades.
Boss Chair Helps Eliminate Stabbings and Slashing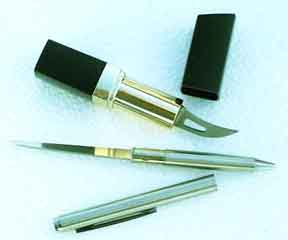 B.O.S.S. minimizes the need for unpleasant intrusive manual searches and increases the safety of officers and inmates. Because the measurement method is non-intrusive, it eliminates the liability and safety issues associated with manual searches. It also saves the time and expense involved in X-raying a person suspected of concealing contraband metal.
B.O.S.S. can be used to conduct a 100% inspection of inmates being inducted into a facility, for cell block inspections and searches of inmates being transported. Scanning inmates prior to transportation enhances security by insuring that they have no handcuff keys or paper clips that could aid an escape.
B.O.S.S. is a powerful deterrent as it helps to limit the number of weapons that enter and circulate throughout the inmate population. In a recent A&E Channel T.V. documentary, officials from New York City's Rikers Island Jail reported that aggressive security measures, which include screening with B.O.S.S., have cut inmate gang related violence by 90%. Prisoners caught with weapons are being prosecuted.
In an article "Prisoners' Weapons No Match for BOSS Chair" by Jim Krane, an APB News Staff Writer reported that in 1990, 1,500 stabbings and slashing occurred in New York City's Jails. Last year this figure dropped to 229. He reported that Mr. Tom Antenen, a spokesman for New York City Department of Corrections, stated that B.O.S.S. is a component of the city's crack down on prisoner violence which had been spiraling out of control. The article also refers to a incident in Texas where a woman was caught concealing eighteen razor blades. At this same unit another woman was found to be concealing a needle.
Fast, Safe, Efficient Screening
The screening procedure is safe, fast and efficient. The person being screened simply positions his / her chin near the oral sensor and then sits momentarily in the chair. The entire procedure takes just a few seconds. Magnetic field sensors housed in the seat of the chair and the oral sensor assembly automatically interrogate for the presence of metal. Audio and visual alarms are activated when metal is carried into the magnetic field. An alarm remains activated for the duration that an object is within the low intensity magnetic field.
A Unique Measurement Technique
The measurement method is unique in so much that it detects ferrous and non-ferrous objects that are either stationary or moving. Eddy current field detection sensors are installed within the chair assembly. The geometry of the chair and oral sensor configuration provides tight magnetic coupling between the sensor and a concealed metal object. Because of the excellent geometry and the combination of dynamic and non-motion detection techniques, small objects are more reliably detected than with a walk-through or hand held detector. In a recent article in the National Law Enforcement and Corrections Technology Center's 'TECH beat magazine" it was reported that B.O.S.S. detected contraband objects and shrapnel undetected by hand held scanning.
B.O.S.S. APPLICATIONS
Prisons, jails and Detention centers
Weapon Screening down to the size of a Razor Blade or BB
Customs and Border Patrol facilities
Precious metal detections in mines and refineries
Coin counting facilities
Jewelry and watch manufacturing
Computer component manufacturing
Various Manufacturing where internal loss would be hard to discover
B.O.S.S. is equipped with wheels, located in an almost hidden area under detector
allowing it to be moved to cell blocks and other locations for snap inspections.
It can be moved by tilting the chair backwards and wheeling it like a wheelbarrow.
FEATURES:
Instantaneous detection of metals concealed in or on the body.
Reliable non-intrusive Micro-controller based method of precious metal detection
Designed for detecting- oral -anal- or vaginally concealed metals
High sensitivity for all metal screening
Designed for loss prevention, as well as penal searches
Detects a single 1/8" diameter (4mm) gold shot
Detects SIMMS and other (CPU) processors
Sensitive, true non-motion static detection sensors housed in a sturdy hard Oak chair, designed to automatically scan the subject once seated.
The measurement is designed to take less than a second. The chair configuration provides optimum measurement geometry.
Detects small ferrous as well as non-ferromagnetic metal objects, which may be concealed in the body cavities.
Secondly, a second sensor mounted on the side of the chair is used for oral searches of the mouth.
Each sensor array has an independent detection channel, and sensitivity adjustment, audio and visual alarm.
Oral and rectal region detection's can be conducted at the simultaneously, allowing two people to be searched at the same time
Unlike conventional dynamic walk-through metal detectors and handheld detectors-
The "BIG BOSS " accurately detects stationary and moving metal.
An optional LCD display provides a metal mass indication:

<![if !vml]>

<![endif]>
915-240-4747
Contact us by E-MAIL

When Your Serious about Security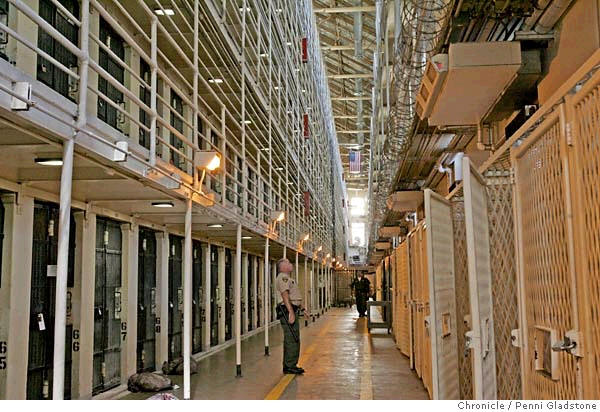 Dept of Corrections
SEE WHAT THEY HAVE TO SAY
http://www.docs.state.ny.us/PressRel/DOCSToday/October2003edition.pdf
http://www.adc.state.az.us/Directions/2001/julydirections2001.PDF
USED AND RECOMMENDED BY THE NEW YORK STATE DEPARTMENT OF CORRECTIONS


Major Credit Cards Accepted

<![if !vml]>

<![endif]>
Security Products Unlimited
Saves You Money!